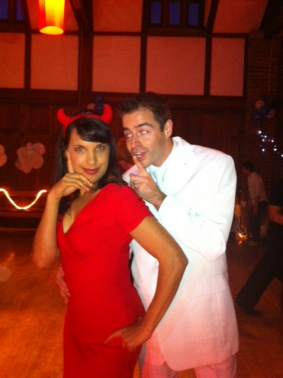 Hopeless at sports, Shob has been dancing since she was 5 years old. She has tried ballet, contemporary, hip hop, funk, salsa, belly dancing, african and is yet to find one she doesn't like. But when she found swing dancing, she discovered dancing with a partner is twice as fun!
Needing some light relief from her day job as an emergency doctor, she threw herself into the world of swing and has been lucky enough to meet some wonderful friends, perform with SP's corporate troupe, choreograph, compete and teach. It has been an amazing journey … not to mention it introduced her to one hot Canadian!
Shob loves embracing lots of different influences into her swing dancing … and loves both the fast and furious and the slow and sultry. She still frequently takes classes and workshops to keep discovering new ways to push her dancing. As a teacher, she is so excited to see new students discover the joy of lindy! She is also a proud member of premier performance troupe Echoes of Harlem.
Competition Highlights
Hellzapoppin runner up 2010
1st place Blues – AJC 2010
1st place Strictly Lindy AJC 2010
1st place Showcase – AJC 2009
1st place Slow Swing- AJC 2009
1st place Slow Swing – AJC 2008
2nd place Fast Foot – AJC 2008
1st place Teams Division MLB 2010
1st place Teams Division MLB 2008