After her first swing dance class back in 2015, Steph was hooked. Ever since then she has continued to build her dance career, and traveled nationally and internationally to learn from some of the best teachers in the world.
Steph has always been drawn to dancing and music, and grew up doing ballet, jazz and tap for a number of years. She is passionate about the joys and creativity that swing dancing brings, and loves seeing her students learn how to be playful with the music and each other.
Steph is a regular teacher for Swing Patrol in Melbourne, and co-teaches The Bluebelles, Swing Patrol's solo jazz troupe. Previously, Steph was a member of Harlem Shout and has performed at events all around Melbourne.
(Photo credit: Janice Campbell)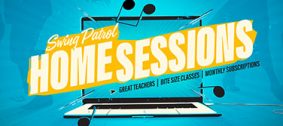 Swing Patrol Home Sessions
14 May '20 - 31 December '20
Bite-sized online dance lessons with a range of fabulous local teachers, available by subscription, to watch anytime.
Read more