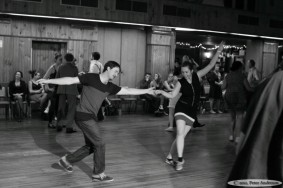 Vanessa started swing dancing in 2008 in Canberra, to accompany a nervous friend, and was pretty quickly hooked. After taking the 6-week beginner program as a follow, she went straight back and did it as a lead so she wouldn't miss anything. She has taught weekly classes in Canberra and Melbourne, performed with various troupes in both cities, and is currently half of the organising team for Swing Patrol's weekly blues venue.
As both a lead and a follow, Vanessa understands the connection from both sides of the divide and uses this insight to help her students shine in the role they are in, and appreciate the role of their partner. She has been teaching 'Everyone Leads, Everyone Follows' classes since 2014 to dancers of all ages (including kids), and also teaches, competes and performs separately in each role.
Vanessa is also a regular DJ for Swing and Blues dances in Melbourne and at interstate events, and has been a DJ Coordinator, Catering Captain and all manner of other event-related titles.
(photo credit: Peter Anderson)