Coburg Collegiate Shag
NEW schedule for 2019 as below. No beginners class at this venue.
Swing Patrol's only venue dedicated to just Collegiate Shag – all Collegiate Shag, every week.
We've got Australia's best, most acclaimed Collegiate Shag instructors, Annabelle Hale and Nial Bruce, and a great space to dance.
7:30 – 8:30pm: Level 2 Collegiate Shag
Intermediate
All intermediate Shag dancers are welcome to this drop-in class. We assume you know the basics, and here we'll explore even MORE style, technique, footwork and all the great things about this dance. It is an intermediate class with ASSUMED KNOWLEDGE. No need to worry about partners though, as we'll be rotating throughout the class.
Stick around after class for social dancing/practice time, consolidate your learning and dance more Shag!

What is Collegiate Shag?
Find out more
If you're brand new to Shag, or need to brush up the basics before attending Level 2 class, check out Club Maxie's fortnightly on Fridays, for beginner lessons, or attend a Learn To Dance In A Day – Collegiate Shag workshop.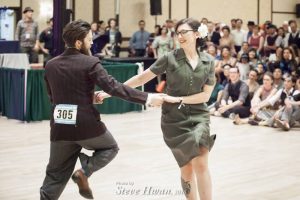 Nial & Annabelle – Camp Hollywood Shag Finals 2016.
Photo by Steve Hwan.